Gracie Square Hospital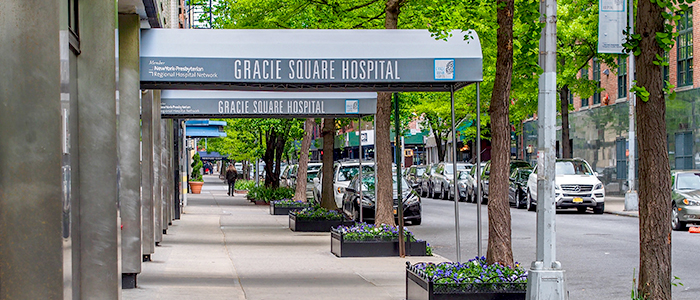 Gracie Square Hospital has provided advanced, patient-centered inpatient behavioral health services since 1959. We are committed to providing patients with compassionate and comprehensive care in a warm and welcoming environment in order to facilitate their recovery and return to their families and communities.
Gracie Square Hospital, a psychiatric inpatient facility located on a quiet side street on the Upper East Side of Manhattan, is now experiencing a period of extraordinary transformation and revitalization. Through our affiliation with NewYork-Presbyterian, one of the nation's premier academic healthcare delivery systems, Gracie Square Hospital is undergoing renovations, growing its staff, and enhancing services and programs. Under new leadership, the hospital is focused on providing the highest quality of care, evidence-based treatments, education, and training.
Gracie Square Hospital's highly specialized clinical services are comprised of special units dedicated to:
Explore the specialized services we have to offer.
For more information or for questions you may have, call our Admitting Office at 212-434-5300 24 hours, 7 days a week. Our team will be happy to assist you in any way possible.