Journey of Magnet Excellence
For nearly six decades, Gracie Square Hospital has been a mainstay of the Upper East Side, providing the highest quality and most compassionate care to adults 18 years and older with behavioral health needs who can benefit from inpatient hospitalization. Gracie Square Hospital offers individuals a warm and welcoming environment in which to receive state-of-the-art treatment to facilitate a healthy recovery.
Gracie Square Nursing Department: Our Mission & Vision
The foundation to our journey of nursing excellence is our commitment to our patients and communities as expressed in our mission and vision statements. Through our Professional Governance Model, our nurses own their professional practice, allowing each individual to perform to the top of their professional license.
Mission
To serve our communities by providing world-class person and family centered care in an empowering and innovative professional nursing practice environment.
Vision
To be the world leader in nursing.
Proactive
Quality, Safety, and Outcomes
Research
Education
Service Excellence
The Roadmap – Our Strategic Plan
This is a "living" document that is the basis of the work we do to promote professional development, patient safety and quality care, an improved work environment, utilization of technology to support nurses in the day to day functions, and patient engagement in achieving health and well-being. The Strategic Plan consists of the following major domains: professional development and education, quality and patient safety, advancing care, operational excellence, technology innovation, nursing engagement, and patient-family experience.
Nursing Strategic Plan 2020-2021
Themes (Areas of Focus)
What we want to accomplish
Professional Development and Education (PDE)

Foster life-long learning through an ongoing commitment to continued professional development for our nurses.
Recruit and retain top talent.

Quality and Safety (QS)

Outperform national NDNQI benchmarks for nurse-sensitive outcomes and HBIPS measures.
Actively engage nurses in unit-based /hospital-based quality improvement activities.

Advancing Care/Professional Practice/Shared Governance (AC)

Advance nursing experience.
Ensure structures and processes for autonomy in nursing practice and shared decision-making.
Promote evidence-based practice and research in all areas where nursing is practiced.

Operational Excellence (OE)

Demonstrate strong fiscal knowledge and responsibility.

Technology Innovation (TI)

Support nurses in using technology to drive evidence-based practice, efficiency, and patient safety.

Patient and Nurse Experience (PSX)

Optimize the patient care experience through high quality person centered care.
Promote a culture of nurse engagement, accountability, and team work.
Our Professional Practice Model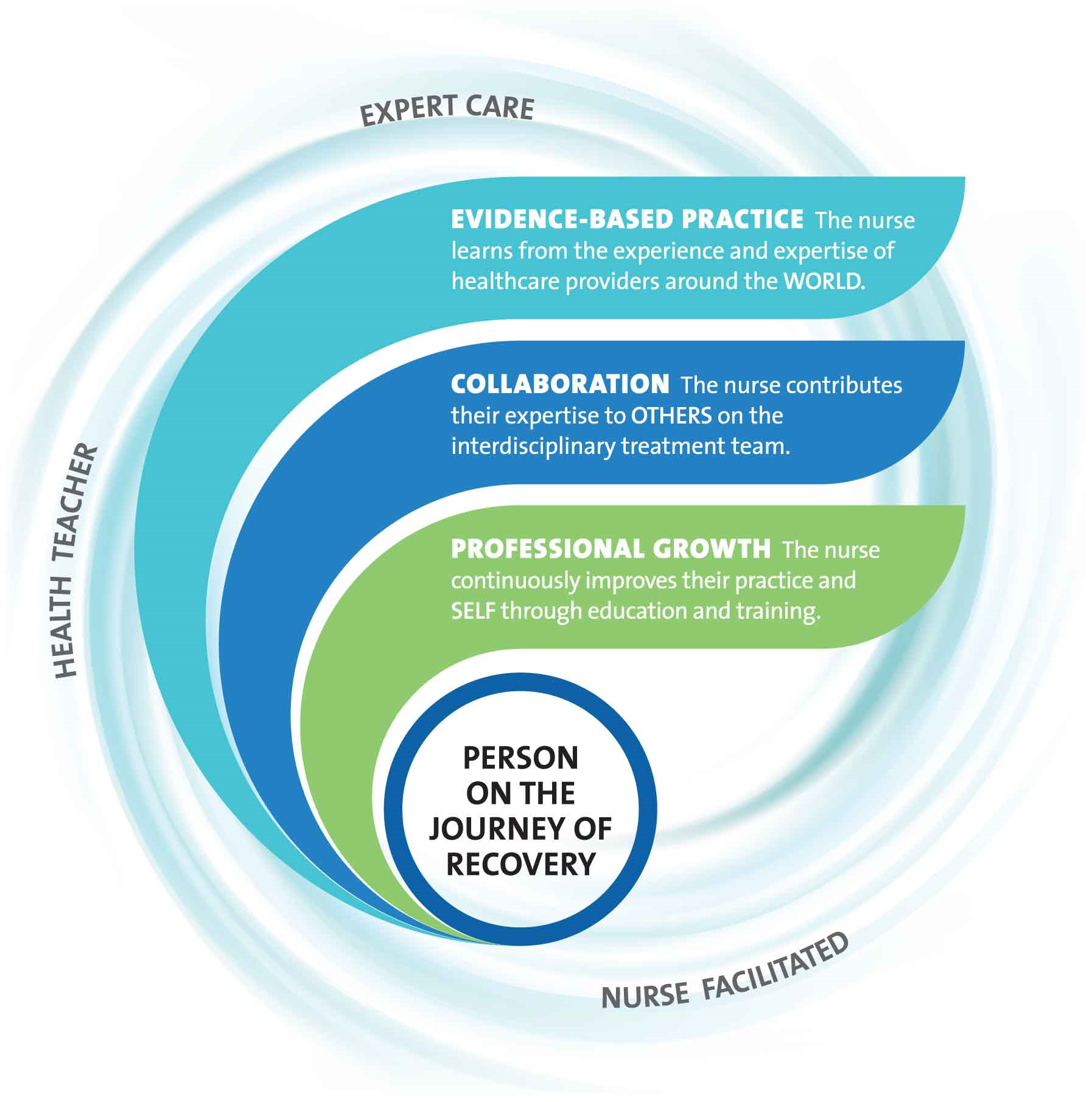 2020 Measures of Distinction
24%
National Board Certification Rate
87%
Percent of RNs with BSN and Higher Degrees
6
Newly Obtained National Board Certification
3
Formal Degrees Conferred
2
Nursing Research Studies in Progress
3
Professional Publication
Contributions of Nurses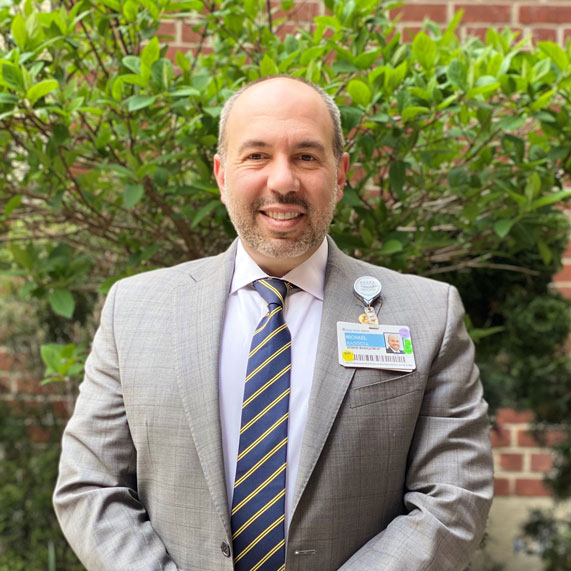 Michael Radosta, MA, MS, BSN, BS, RN, NEA-BC, FACHE, Chief Nursing and Quality Officer (CNQO) at Gracie Square Hospital (GSH) pioneers new opportunities to drive excellence. The NewYork-Presbyterian (NYP) psychiatric service line had struggled with unification and community access to the inpatient beds within the NYP enterprise. Mr. Radosta led NYP to implement a successful enterprise-wide inpatient psychiatry bed flow management program called the Psychiatry Inpatient Access Center (PIAC). A critical component of the bed flow management program was for Mr. Radosta to lead the streamlining of GSH psychiatric admissions.
Mr. Radosta led the effort and engaged GSH teams, inclusive of the departments of nursing, medicine, senior leadership, operations, patient access, social work, support services, security, and information technology (IT) to work together to restructure the GSH psychiatric admissions.
The Patient Flow and Patient Access Teams worked to collaborate on the design of an efficient patient admissions workflow. To integrate GSH beds into the NYP pool of beds, Mr. Radosta led the team to create a patient flow algorithm to delineate patient flow processes, minimize redundancies, and facilitate efficiencies. Mr. Radosta advocated for the flow algorithm to identify discipline-specific steps for each department to delineate roles and responsibilities. The result was a color-coded visualization of the GSH admission workflow with functions for TeleTracking, nursing (RN), patient access center, environmental services, and social work departments.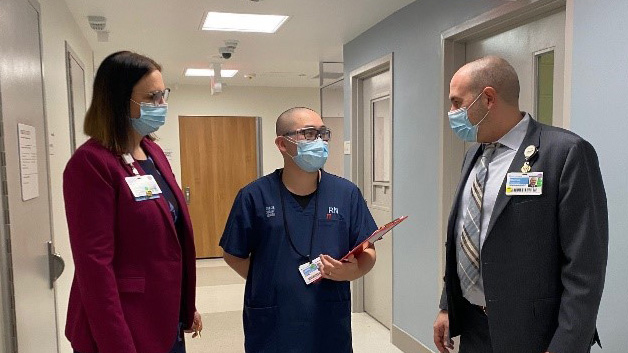 The tele tracking team worked to integrate GSH's 136 beds into TeleTracking, the NYP patient flow and technology platform, for bed management. The automation of the vacant beds at GSH would allow enhanced utilization of available psychiatric services and streamline patient access to the needed services. Prior to the change, GSH coordinated their admissions without regard to the need for psychiatric beds among patients within the NYP enterprise. By integrating GSH beds into the NYP pool of psychiatry beds, the enterprise could better meet the needs for psychiatric care.
GSH's 136 inpatient beds became part of a successful large-scale centralized network that optimized patient placement and improved access by balancing the number of open beds across the enterprise, equitably distributing patient acuity, and increasing patient throughput. Following GSH's integration, the majority of GSH's admissions were from within the NYP enterprise. This relieved bottlenecking in the emergency departments and enhanced patient access to psychiatry services among NYP communities, including Manhattan, where GSH is located.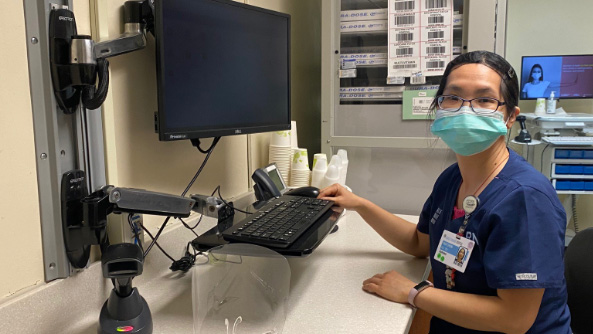 Clinical nurses at Gracie Square Hospital (GSH) are dedicated to enhancing patient safety and nursing practice. In March 2020, clinical nurses Yan Chun Mui, MSN, RN-BC, OAAP, and Erica St. Pierre, BSN, RN, OAAP were part of an interprofessional team convened to identify opportunities for improving falls prevention. Fall Tailoring Interventions for Patient Safety (TIPS) is an evidence-based falls prevention tool used by GSH clinical nurses on a daily basis to support fall risk assessments and nursing interventions. Ms. Mui and Ms. St. Pierre explained to the team that (1) nurses complete Fall TIPS assessments twice daily on every patient, and (2) each assessment added a new page to the Electronic Health Record (EHR). If a patient's fall risk was unchanged, these new pages were blank except for a notation of "unchanged". This led to the quick accumulation of empty pages in the EHR, which buried earlier documentation. Sifting through multiple pages in search of meaningful data was cumbersome, inefficient, and increased the opportunity for human error in formulating patients' current risk status.
The clinical nurses advocated for the streamlining of Fall TIPS documentation to enhance safety by improving nurses' access to patient fall risk data. The organization enthusiastically agreed to move forward with the nurses' recommendation to transition to a single living document. Francine Fakih, MA, RN, NEA-BC, Director of Nursing, championed clinical nurses' innovative solution by taking it to GSH's Information Technology (IT) analysts and Nursing Informatics Committee (NIC). IT and NIC brought the nurses' vision to life in the EHR. On November 16, 2020, the single-page Fall TIPS document was launched across the organization. This new, modifiable format prevented clinical data from being buried in the EHR and ensured nurses' had immediate access to patient-specific fall risk information. Nurses could now swiftly review patients' comprehensive fall risk history and utilize these data when formulating their risk assessments. As a result of clinical nurses' contributions to organization-level decision-making, GSH's organizational falls rate significantly improved after the new document format's launch.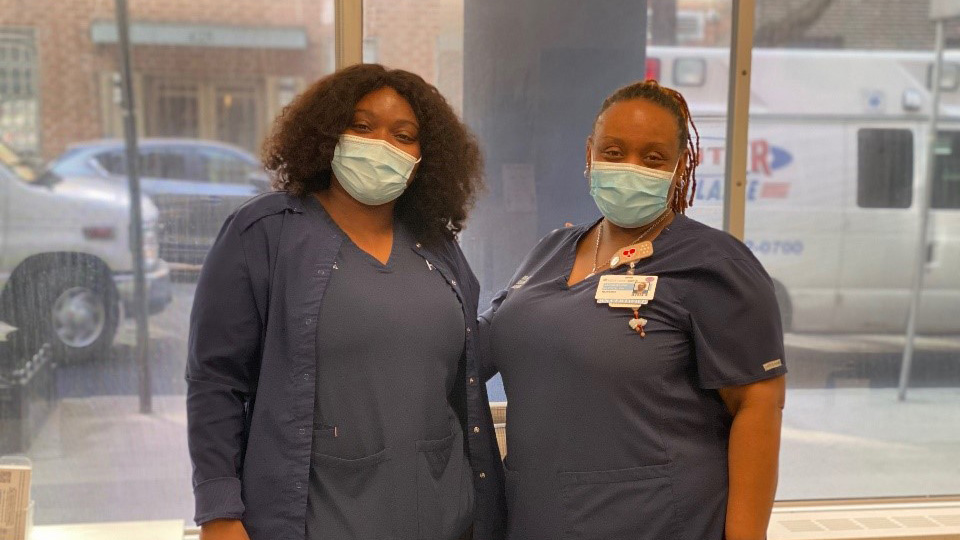 Clinical nurses for the Psychotic Disorders and Crisis Stabilization (PDCS) assume the role of health teacher and implement evidence-based practice as critical elements of their professional practice model. In January 2019, Jaqueline Battice, BSN, RN-BC, Unit Care Coordinator, clinical nurse, and unit council chair, led her peers in a discussion about the declining patient experience scores related to discharge. Deborah Cherubin, BSN, RN, Clinical Nurse, conducted a literature search to ensure that nursing practice was aligned with the best evidence for improving patient experiences related to discharge readiness. Ms. Cherubin shared that evidence showed that (1) many patients experience uncertainty about how to take their medications at home (2) higher quality discharge teaching within a structured environment is associated with greater perceived discharge readiness (3) discharge teaching is less effective when left to the day of discharge, (4) the quality of nurses' education delivery is more strongly related to patients' perception of readiness for discharge than the amount of content provided, and (5) lack of time and an undisturbed setting are barriers to patient teaching.
The clinical nurses compared the evidence-based practice recommendations to current practice and identified gaps. The clinical nurses highlighted that current nursing practice involved nurses teaching patients on the day of discharge which left patients feeling unprepared about how to safely manage their medications and patients were less prepared for discharge. The clinical nurses agreed that a weekly discharge readiness group would create structured, uninterrupted time for nurses to review medications, such as medication names, administration times, and indications with patients. The nurses proposed that a nurse-led discharge group could improve patients' perception of discharge readiness and improve the patient experience.
The clinical nurses developed a discharge readiness group and incorporated the evidence-based practice recommendations. Ms. Battice, Ms. Cherubin, and Badjy Jean-Simon, BSN, RN, Clinical Nurse, implemented a weekly discharge readiness group as a platform for assessing patients' understanding of discharge planning, addressing patient-specific questions and concerns, and tailored patient education to meet individual patient needs for discharge. This plan included evidence-based teach back, community resources, and called the group Ready Set Go. As a result of clinical nurses making evidence-based changes in alignment with the organization's professional practice model, the Ready Set Go group improved patient experiences scores.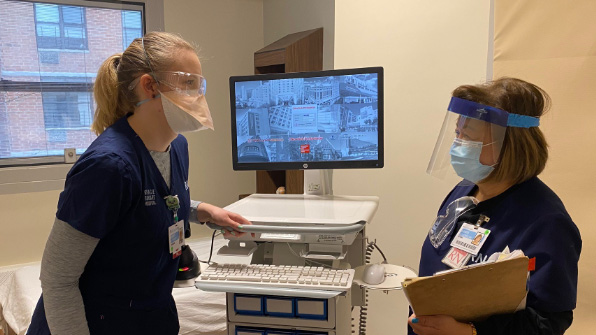 Gracie Square Hospital's (GSH's) Staff Advisory Council (SAC) serves as a platform for clinical nurses to convene with nursing leaders on a monthly basis and voice their ideas for enhancing nursing practice. Clinical nurse representatives from each of GSH's four inpatient units serve as members of this professional governance committee.
SAC clinical nurses led the planning strategies about how nurses would transition from a functional model of practice to a primary nursing care model. The previous functional model of nursing practice included designated roles for clinical nurses, known as medication nurses. Nursing practice for a shift for the medication nurse was primarily focused on administering medications to all patients on the unit versus providing holistic patient care. Under this model, nurses noted an increase in medication errors.
In September 2018, Meghan Farrell, BSN, RN, Clinical Nurse, Mood Disorder and Young Adult (MDYA) unit, suggested the adoption of Workstations on Wheels (WoWs) as a strategy for improving nursing care and implementing the primary nursing model of care delivery related to medication administration. A WoW is a rolling cart fitted with a desktop computer and wireless scanner for medication administration that runs on a battery and allows nurses to have remote access to the electronic medical record and medication administration record via W-Fi. Multiple WoWs on each unit would allow multiple clinical nurses to administer medications to their assigned primary patients, using scanning technology on the WoWs. The technology would allow nurses to scan the patient armband and the prescribed medication to ensure safe, accurate medication administration in real-time.
Kathleen Donahue, MA, BSN, RN, Director of Education, and Michael Radosta, MA, MS, RN, NEA-BC, FACHE, Chief Nursing & Quality Officer (CNQO) supported the clinical nurses' idea. Once the WoWs were obtained in October 2018, Karissa Padilla, DNP, RN-BC, Regulatory & Informatics Specialist, began working with the MDYA clinical nurses to pilot the WoWs to determine best practices before the technology was activated. Ms. Padilla educated the clinical nurses about the technology and the MDYA clinical nurses provided ideas about a process for use of the WoWs. On December 1, 2018, clinical nurses throughout the organization fully adopted the WoW when administering medications to patients. The clinical nurses utilized the WoWs and the portable barcode medication administration capability which allowed nurses to scan and verify medications in real time while simultaneously reviewing the patients' medication administration records in the electronic medical record at the bedside. Multiple clinical nurses safely administered medications which eliminated the single medication nurse model and ensured that every nurse was able to deliver patient-centered care and strengthen the new primary nursing model. Due to the adoption of technology by the clinical nurses, the GSH medication error rate decreased starting August 2018 to April 2019.
Publications
Mahgoub, N., Agarkar, S., Radosta, M., Fakih, F. Calleran, B., Clark, R. Cherubin, D., Faour, F. & Anthony, D. (2021). Experiences and challenges while managing the inpatient psychiatry unit dedicated for COVID-19 patients. Open Journal of Psychiatry, 11 (1). doi: 10.4236/ojpsych.2021.111002
Mahgoub, N., DeDonatis, A., Velasco, J., Radosta, M., & Anthony, D. (2021). Diagnostic and treatment challenges of clozapine-induced myoclonus. Psychiatric Annals. 51(1):47-49. https://doi.org/10.3928/00485713-20201202-01
Russ, Mark J. MD; Parish, Sharon J. MD; Mendelowitz, Ruth MSW; Mendoza, Shayne MHA; Arkow, Stan D. MD; Radosta, Michael MA, MS, RN, NEA-BC, FACHE; Espinosa, Linda MS, RN, NEA-BC; Sombrotto, Lisa B. MD; Anthony, Donna MD, PhD; Wyman, David A. MPA; Baptista-Neto, Lourival MD; Wilner, Philip J. MD The Interface of COVID-19 and Inpatient Psychiatry: Our Experience and Lessons Learned, Journal of Psychiatric Practice: May 2021 - Volume 27 - Issue 3 - p 172-183 doi: 10.1097/PRA.0000000000000551
Podium Presentations
Dedonatis, A & Velasco, J (2020, November 18). Overdose Prevention with Gracie Square Hospital. Presentation for NAMI-NYC Public Education Events. New York, NY.
Poster Presentations
Karissa Padilla, DNP, MSN, RN-BC (October 2020). Reducing Falls in a Psychiatric Inpatient Unit: Quality Improvement. Poster presented at the American Psychiatric Nurses Association's 2020 Annual Conference. Orlando, FL.